This is a Sponsored post written by me on behalf of Vipre. All opinions are 100% mine.
I once believed computers were indestructible. That they had no weaknesses and no bad stuff would ever happen when I go online.
JUST. WRONG. There is nothing more dangerous than the Web. Not because it is intrinsecally evil, but because bad people are everywhere, offline as well as online. If they can get to spy your data or steal your credit card credentials or even just disrupt your PC work… they'll do it.
This is especially true when you have kids who regularly frequent the Web and visit websites, in the dark of the dangers it hides behind its webpages. A simple screensaver or a web app can destroy months of work or study materials.
It's not fair.
That is why I never go without an antivirus or a firewall anymore. And that's a reason why I decided to try out VIPRE Internet Security; I just recently posted a more geeky review of this software on my other blog, Honey-Babe.net, but here I want to show you its configuration, as well as my experience with it.
[click on the picture below to view it at higher resolution]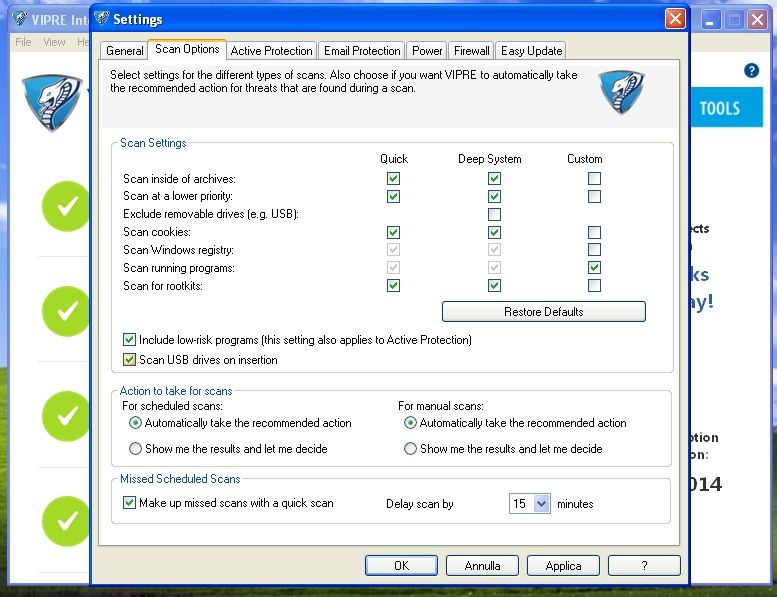 VIPRE and ME
The first time I installed VIPRE Internet Security I feared it would slow down my PC as many antiviruses did before; Norton and Panda, in particular, slowed down my old computer's performance in a way that made it difficult to use the computer for work (or for studying) purposes. Well— I was positively disappointed.
In fact, VIPRE isn't just cleanly designed and user-friendly, it's also lightweight and it didn't slow down my PC performance at all.
What you see in the picture above is the Scan Options dialog. I configured it to perform both quick and in-depth scans, at low or high priority, and to scan archives (i.e. compressed files, like .ZIP or .TAR.GZ packages), programs and the entire Windows registry.
As I run an in-depth scan just a few days ago, VIPRE immediately found the two viruses I had downloaded for testing purposes (from the EICAR.org website, that's all about internet security). You can see a detailed screenshot of the scan results below (click it to enlarge it):
I fell in love with VIPRE.
It found all testing viruses I installed and its database keeps up-to-date daily. My license expires in one year and I'll make sure I renew it, because the software is well worth of it.
You can try VIPRE, too, by downloading the trial version from vipreantivirus.com. It's a clean website, so don't worry about any risks. It's safe to download and install (the contrary would beat an antivirus program, wouldn't it?). It only took a few minutes for me.
What's your favorite antivirus program? Does it work well for you? Share your experiences.